CNC Router
From CoMakingSpace Wiki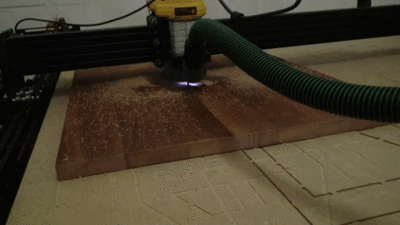 A CNC router is a computerized woodworking machine - basically a router mounted on a positioning system. While it may also be able to handle other materials than wood depending on the bits you use, a proper CNC mill is more precise for machining parts out of metals and other non-wood materials.
To use this machine, you need to familiarize yourself with at least two pieces of software:
a CAD/CAM program (e.g. Fusion 360)

may also be two different programs, one for CAD and one for CAM
There is also an interesting new approach of handheld CNC routing coming out which may remove the size constraints that come with any fixed-frame machine.
Uses
You can make furniture or even build a house. For more ideas, check out the CNC Milling Ideas.
WorkBee
We built the 1500mm x 1500mm version of the WorkBee CNC, which is based on the Openbuilds OX. It can currently cut sheet material of up to 20 mm thickness on a work area of approximately 1250 × 1250 mm.
Details on setting it up can be found in issue #8 - maybe you would like to help?
Router
The router mounted to it is a Dewalt D26200 (GB). You need to consider the sizes of its collets (Spannzangen) when buying your router bits.
no-load speed: 16000 - 27000 rpm
max cutter diameter: 30 mm
available collet diameters:

6 mm
8 mm
1/4 inch (6.35 mm)
1/8 inch (3.175 mm)
The collets of the DW613, DW620 and DW621 also fit the router and are easier to get in Germany than the original ones.
G-Code Sender
After creating the tool paths in a suitable CAM software (e.g. Fusion 360) they need to be sent to the router in real time via the serial interface (USB).
Our experiences can be found on: G-Code Sender
Tips & Tricks
Spoiler board
Ooznest recommends a 6mm spoiler board, our first one is 20mm thick. It is mounted to the frame using 4 drop-in T-slot nuts. Cutting into the boards will make it uneven, from time to time it is neccessary to surface the spoiler board again.
Materials
Aluminum
With a lot of patience an the correct bits possible but check if it's millable aluminum
differnt alloys of containing Cu, Si, Pb
Bits
maximum two cutting sides carbide is more rigid than HSS and advised by some online guides Tested 4mm 2-sided pointy-end bit with acceptable success
RPM, Speeds, etc.
Values are only the tested ones, faster CAN be possible as well
slow RPM: 16 000 is our minimum but e.g. for a 4mm bit, 6000 RPM would be better

different mill or PID-ing?

Feed Rate/Schnittvorschub: ~200 mm/min
Einfahrvorschub: 15-20 mm/min
Ausfahrvorschub: 200 mm/min
Helixvorschub: 15-25 mm/min
Eintauchvorschub: 15 mm/min
Depths: 0.25mm per pass
Milling directions (to be tested): Conventional/Up-Cut (Gleichlauf) milling milling for the basic different passes with a finish using Climb-milling/Down-Cut milling (= Gegenlauf)
Cooling
Not yet tested
any sort of lubricant or coolant will increase the efficiency of aluminum milling

there are suggestions ranging from cutting fluid over WD-40 to candle wax for lubing
As coolant, a water or alcohol mist seems unsuitable with our pressboard

instead, using the air compressor might be a possiblity
POM/Acetal/Delrin
Bits
tested with 2 and 3 sided HSS Bits 4mm-6mm but no indication against any other diameters
RPM, Speeds, etc.
Spindle on level 1 (=16 000rpm)
Schnittvorschub: 500mm/min +
Einfahrvorschub: 500mm/min +
Ausfahrvorschub: 500mm/min +
Helixvorschub: 200mm/min +
Eintauchvorschub: 30mm/min
Depths: 2-3mm
Strongly advise a horizontal Rohteilaufmaß and a final finishing cut to remove any "layer" marks.
Cooling
Not neccessary with the current settings but might increase the cutting speeds drastically
Helpful Links
video tutorials:
other spaces with (somewhat) similar machines and good approaches/documentation:
Feeds and Speeds Calculator