Vehicle Workspaces
From CoMakingSpace Wiki
>>> also check out #topic-vans on slack!
The CoMakingSpace currently offers 3 vehicle workspaces that can be used with the corresponding membership option. The spaces are 3.5 m wide and 6 m long, and our gate is 3.00 m high (yes, precisely).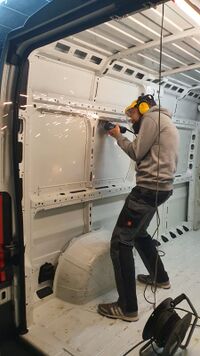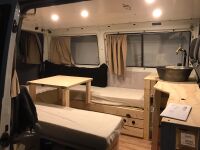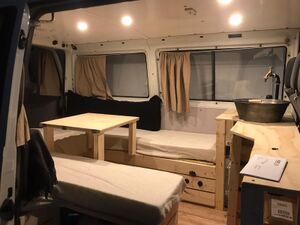 As specified in our Werkstattordnung, these are NOT to be used as storage or parking spots but should aid in the active realization of larger vehicle projects. "Vehicle projects" for us means creative building as well as extensive alterations and repairs of all kinds of vehicles - so whether you're going to do a camper van conversion, design a cargo bike or trailer from scratch, or perhaps restore an old treasure, we are excited to see the results and what you'll learn in the process! Keep in mind that the Werkstattordnung rules are still in place. For example work on and around the engine/transmission is not permitted due to the risk of oil/gas leakage.
Since there may be times with more interested members than available spaces, we are compiling the waiting list below. Members who are interested in using one of the spots can simply enter themselves. As soon as a verhicle space frees up, we will then offer it to the longest waiting member!
---
>>> schaut euch auch mal #topic-vans auf slack an!
Der CoMakingSpace hat momentan 3 Fahrzeug-Werkplätze, die mit einer entsprechenden Mitgliedschaftsoption genutzt werden können. Die Plätze sind 6 m lang und 3,5 m breit, und unser Tor hat eine Höhe von 3,00 m.
Gemäß unserer Werkstattordnung handelt es sich dabei NICHT um Lager- oder Stellplätze, sondern um Flächen zur aktiven Verfolgung von umfangreicheren Fahrzeugprojekten. "Fahrzeugprojekte" sind bei uns kreative Neubauten sowie größere Umbauten und Reparaturen von Fahrzeugen aller Art - wenn ihr also beispielsweise einen Van ausbauen, ein Lastenrad oder Anhänger selbst entwickeln oder ein altes Schätzchen herrichten wollt sind wir gespannt auf die Resultate und was ihr "unterwegs" herausfindet! Bedenkt bitte dass die Werkstattordnung auch bei den Fahrzeugplätzen besteht. Z.B. sind Arbeiten am und um den Motorrraum/Getriebe aufgrund des Risikos von Öl/Benzin austritt nicht möglich.
Da es vorkommen kann, dass es mehr Interessenten als Plätze gibt, haben wir die folgende Warteliste eingerichtet. Hier sollen sich Mitglieder eintragen, die einen Fahrzeugplatz nutzen wollen. Sobald einer frei geworden ist wird dieser an das am längsten wartende Mitglied in der Warteliste vergeben:
Warteliste
Nächster freier Platz: TBD