Category
:
Jigs
From CoMakingSpace Wiki
Jigs (Vorrichtungen, Werkstatthilfen) are helpers for difficult standard operations, such as drilling angled holes, making specific cuts, or accurately repeating something.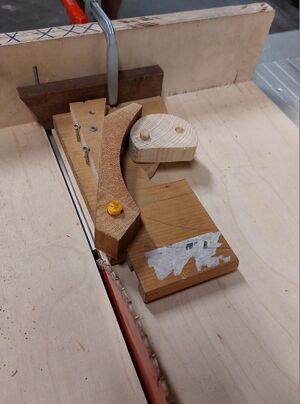 They can usually be self-made! Please share your jigs if they can benefit others - it's as easy as labeling them with a meaningful name and creating a corresponding wiki page with instructions! Every page in the "Jigs" category shows up on the bottom of this page for everyone to find.
Good to know for adjustable jigs: M6 screws advance exactly 1 mm per turn.
Ideas
Here are some ideas for commonly needed jigs if you feel inclined to make one:
bench hook
shooting board
drill press table
star knob jig - perhaps one for M6 and one for M8 screws/T-nuts?
V-block for drilling into round or angled pieces

should have a long "V" groove and a second "V" on the side, as shown here
Pages in category "Jigs"
The following 11 pages are in this category, out of 11 total.